If you are a Super Bowl fan, you're probably planning to stream the game online. However, experts are warning that come game time the internet will be swamped with illegal streams set up by hackers.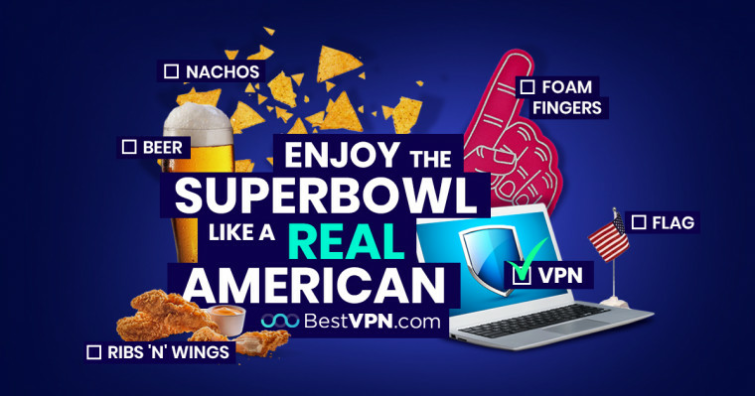 These dodgy free Super Bowl live streams will be deliberately infected with dangerous malware, Trojans, and even ransomware. For sports fans like you, clicking on infected links will result in infections, which could see your computer or mobile devices locked up or fall under the control of hackers.
This could result in costly ransoms, or cyber-criminals hanging around your devices - waiting to steal passwords, credentials, credit card details, and other sensitive data.
Unblock super bowl free live streams safely
The good news is that if you want to watch the Super Bowl, you don't need to risk being hacked. Plenty of online streams are showing the Super Bowl for free worldwide, and with a VPN you can unblock any one of them. The easiest way to watch the Super Bowl is on the BBC's iPlayer, and all you need to do so in a subscription to NordVPN . Here is how:
Head over to NordVPN. It has servers in the UK to stream Super Bowl on iPlayer, and servers in the US to watch the game on CBS Sports.

Subscribe to NordVPN. Remember that NordVPN has a money back guarantee. That means you can subscribe, watch the Super Bowl in HD, and cancel your subscription without spending a thing.

Download the VPN software onto your device. NordVPN lets subscribers use the VPN on 5 simultaneous devices - that means you can watch the UK and US coverage on two devices and flick between the commentaries for a true VIP experience.

Once the software has downloaded, install it and log in using your credentials.

Connect to a server in the country where you want to watch a stream. We recommend the UK or the US.

Navigate over to iPlayer or CBS Sport and watch the big game for free, uninterrupted - and without the worry of hacking or fines!
Don't bother searching for free super bowl streams!
Consumers are reminded that even if they find a free live stream online, watching that stream is in breach of copyright. That means they could be prosecuted or fined at a later date for watching the Super Bowl on an illegal stream.
This year, there are plenty of legitimate free options for watching the Super Bowl online. Also, as it is possible to get your money back for 30-days, you really would be crazy to not watch the Super Bowl on an official HD stream!
No need to risk the possibility of ending up infected with dangerous malware, or a big fine for copyright infraction. The Super Bowl is the biggest sporting event of the year, and with a VPN you can easily spoof your location to watch the match in glorious HD!
Don't miss the action!
If all that hasn't convinced you, consider this: Broadcast right holders will be working tirelessly during the game to flag up and block URLs providing illegal access to the Super Bowl. That means you could find yourself suddenly blacked out during the game!
No matter which way you look at it, using a VPN to watch the Super Bowl without stress is the best idea. A VPN will let you watch the Super Bowl for free, so go ahead and subscribe now! You won't regret it!