Governments have a terrible track record when it comes to protecting citizens' data. This is because connected databases are notoriously hard to protect. The more valuable the data inside them, the more temptation there is for hackers to break in - and they often do.
Foreign states, cybercriminal gangs, and lone wolves hoping to cash in, all have strong motivations for accessing citizen's super sensitive medical data. Then there is the possibility of corruption, inside jobs, or simple mistakes at the hands of those people with access - all of which can lead to the loss of private data.
In the past few years, cyber attacks on the United States Office of Personnel Management (OPM), Britain's NHS, and India's Aadhaar card database have highlighted the vulnerabilities posed by government-run databases. Just recently, 1.5 million health records were stolen in Singapore. Yet more proof that health records are a prime target that are said to hold more value than financial records.

My Health Record
Despite the obvious risks, governments around the globe keep pushing forward with proposals for centralized databases. In Australia, people are being warned to opt out of a government scheme called My Health Record (MHR). MHR is a digital health record database currently being set up. By the end of 2018, it will include every Australians' health records - apart from those citizens who specifically opt out.
Privacy advocacy groups have warned that hundreds of thousands of medical records have already been added to the database, without citizens' consent. Activists say that the scope of records being included is extremely troubling; especially considering the Australian government has a poor track record of protecting people's private data.
Valid concerns
The opt-out health record database was first criticized by Australia's former privacy commissioner, Malcolm Crompton, six years ago. At that time he warned the government that the central database would pose too much risk to the general public. The government has ignored those warnings.
Now, a number of advocacy groups including CounterAct - one of Australia's most active social justice groups - has gone on the record to express its concerns. Citing previous misgivings over Australia's 2016 census, CounterAct says that the MHR database raises all the same privacy concerns. However, this time CounterAct is sounding the alarm-bells more urgently because MHR adds unprecedented levels of sensitive data into the fray:
"Sexual activity and orientation, gender, stigmatized diseases, prescriptions which could identify your condition, life-threatening and chronic health conditions, fertility, reproduction rights and more."

Opt out now
Tim Norton, Digital Rights Watch chairman, also believes the database is a massive risk. Norton told ProPrivacy.com:
"Despite a range of privacy concerns being raised by human rights activists, medical professionals, and technology specialists, no guarantees have being given that individual citizen's personal information within the My Health Record system will be kept safe and secure."
Norton isn't alone; various mental health bodies have come forward to express outrage. Consumers of Mental Health WA (CoMHWA), the Victorian Mental Illness Awareness Council, and Being, all believe that the risk of data breaches is astronomical.
According to CoMHWA chief executive Shauna Gaebler, MHR "increases the risk of discrimination and health inequalities for people with mental illness." Gaebler also has concerns about how the database could affect young people if their private medical records are accidentally exposed to their parents.
Too much access
Perhaps the most troubling aspect of MHR is the large number of individuals that will have access. According to CounterAct, more than 70,000 doctors will be able to use it. In addition, 30,000 pharmacies will be allowed to log in.
Statistics have emerged that quote figures as high as 900,000 medical professionals, and 12,000 organizations being given permanent access. This creates vast potential for the abuse or mishandling of those sensitive private medical records. Even without throwing hackers into the mix, it seems inevitable that there will be a data breach at some point.
Malcolm Crompton, who is currently an adviser at one of Australia's leading information privacy consultancies, commented:
"It may well be military-grade [security] on the central servers of the My Health Record system. It's demonstrably not military-grade for all of those 900,000 practitioners. Literally, because nobody knows. Nobody has actually audited those 900,000 practitioners to make any statement of any sort on how secure they are."
Dr. Trent Yarwood, health spokesman at Future Wise concurs with his opinion, recently stating that "with so many points of access, there will be people who do the wrong thing."
Not just for healthcare professionals
Australian law enforcement are already lobbying the government for access to the database and, according to CounterAct, they may already have been granted access in some cases.
The Australian Digital Health Agency (ADHA) - which controls access to My Health Record - has stated that access will only be granted with a warrant. However, ADHA currently has the power to change the process at a later date - meaning that this database could become even more dangerous later on.
The good news is that campaigners are celebrating some success from their recent campaigns. Federal Health Minister Greg Hunt has today gone on the record to promise that a warrant will be necessary for the police, tax office - and other third parties - to access the data contained within the MHR database.
However, it is not yet clear if patients will be informed when a successful warrant is granted. ABC has previously reported that "if personal information is disclosed to law enforcement, the decision about whether to notify the My Health Record holder will be decided "case-by-case".
PM Turnbull has indicated that, in theory, he would support private medical insurance companies being granted access in the future. That means that people's private health records might one day be subjected to a free for all. Norton, for one, is extremely worried:
"There are concerns about current or future access being granted to private companies. In 2016, the Department of Health provided access for Telstra to the national bowel and cervical cancer screening register, thus giving a for-profit company access to intimate health information without prior consent of those affected. What guarantees are we being given that this will not occur again?"
Phil Booth, coordinator of medConfidential, told ProPrivacy.com:
"When it turns out a number of those publicly supporting My Health Record have been taking money from the Agency running it, alarm bells should be ringing. If the benefits ADHA claims cannot be sold to patients on their own merit, something is clearly wrong with the scheme.
"Despite several years of a sort of opt-in approach, there's scant evidence from doctors of any real clinical benefit. With very little use for patients themselves, My Health Record is clearly more about hoovering up masses of information about Australians' medical treatments, for 'secondary uses' the MHR website doesn't mention, and which the officials involved weren't even talking about."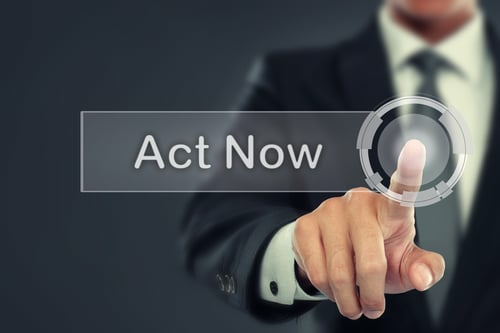 The time to act is now
Considering the sensitive nature of the health records, Australians were originally only being given until October 15 to opt out. However, the government did decide to extend the time period by one month to November 15. This still doesn't give Australians much time, and we recommend that you go ahead and opt out sooner rather than later.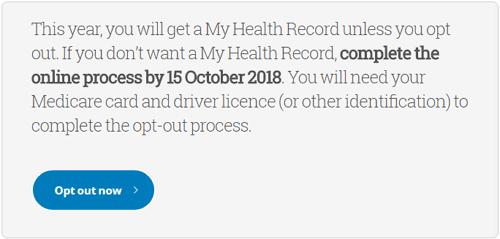 How to opt out
Anybody wishing to opt out of this invasive scheme is advised to go ahead and do so at once. The benefits to Australian citizens are minimal, and the risk of data leaks and hackers stealing the data huge. To opt out follow these simple steps:
Get your Medicare and Drivers Licence numbers handy

Go to the

My Health Record Opt-Out

website

Fill out the details to ensure you are not part of the system when it goes live at the end of 2018