An SMS message has been causing VPN users to panic in the United Arab Emirates. The text message, which appeared to be from the nation's Telecommunication Regulatory Authority (TRA), informed its recipient that they were being fined for using a Virtual Private Network (VPN) service. VPNs are an online service that permit users to pretend to be in a different country.
In UAE (and elsewhere) people use VPNs to access websites and services that are blocked. In UAE many sites are blacked out, and recently the government extended those restrictions to include the popular VoIP messenger Skype. This has led to more citizens than ever before seeking out a UAE VPN.
Last week the contents of an SMS message went viral in and around Dubai. That text message seemed to come from the nation's official telecoms regulator the TRA. The message informed its recipient that they were being fined for using an "illegal VPN" and must "contact their local police station". The fine also included the sum they would have to pay: 5000 AED (the equivalent of $1361).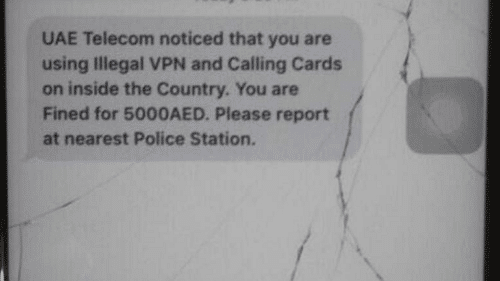 Widespread Panic
The unexpected and unusual text caused alarm among its recipients - who thought they were actually being fined for using a VPN. Confusion was abundant because it was not thought that VPN use was illegal. Instead, UAE's law appears to outlaw specific activities that a VPN can be used for: such as accessing restricted sites and services.
The text message caused a frenzy of people to take to Twitter. Concerned citizens approached the TRA en masse to find out what was happening. At that time, TRA warned people that the text was likely to be a scam:
"TRA would like to draw your attention that the circulated message about using VPN, paying AED 5000 fine, and requesting attendance to the nearest police station, is fabricated. We ask the public not to circulate such malicious messages."
Hoax
After receiving a barrage of complaints, the TRA approached the necessary authorities to find out if the text was being sent out without its knowledge. Now, the TRA has come forward to assure citizens that the text message was indeed a hoax. A full investigation has been launched to find out who sent the fictitious VPN fine.
The TRA has also made a statement in the newspaper, Emarat Al Youm. In that comment, the TRA reinforced the legal position surrounding VPN use in the nation:
"Using VPNs is allowed in UAE by businesses and regular consumers - if used for legal purposes."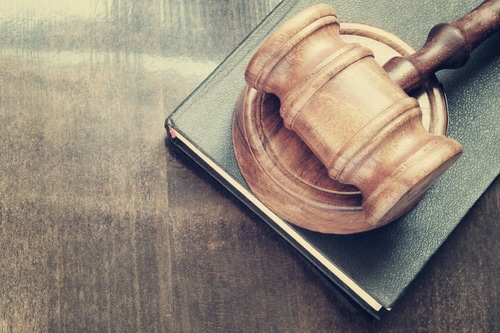 Legal Purposes
Businesses in UAE (and around the world) use VPNs to work remotely under secure conditions. VPN services provide a method of logging into corporate networks via the internet in a secure manner. The encryption that a VPN provides stops hackers and other interested parties from snooping in on important corporate data and correspondences. It is this legitimate VPN use that makes it near impossible for authorities to blanket ban the technology. (Though they are attempting to do so in Russia and China.)
However, there still appears to be a lot of confusion surrounding VPN use in UAE. It is this ongoing confusion that made last week's SMS cause so much panic. An article published by Khaleej Times, on Friday, said:
"Earlier last year, we had reported that users in the UAE can technically use VPNs as long as they're the legal ones - and you won't use it for anything against the law."
Despite this statement, neither of the two articles actually state which VPNs are considered "legal". Despite a concerted effort, I can't find mention anywhere of a list of VPNs that are considered legal (vs ones that aren't). I don't believe one exists. This seems to be confusing other people too. Commenting on the article, one reader going by the name Ricky said:

To answer Ricky's question: it is my impression that VPN use is still legal in the UAE. However, as I warn in my 5 best VPNs for UAE article: citizens must take great care to ensure that they aren't discovered doing anything illegal with their VPN. If they aren't extremely careful, they could face temporary imprisonment and a fine. That is why citizens in UAE are always advised only to use high quality, trusted VPNs.
Skype and VoiP Blocks
As of the 31st of December, Skype is blocked in the UAE. This has caused many people to seek out a VPN. This naturally brings up the question: Is using a VPN to unblock Skype illegal? The answer is yes. The TRA's regulatory policy on services like Skype makes them fall under section 14 of its list of prohibited Internet content.
For this reason, citizens are again warned that using a VPN in UAE should be done with extreme caution. Only services that don't suffer from IP and DNS leaks are recommended. In addition, VPN users in the UAE are advised to make the most of advanced VPN features such as a killswitch and VPN stealth mode.
A killswitch will stop VPN users from accidentally leaking traffic outside of the VPN tunnel should the VPN connection accidentally drop out. Stealth mode (also known as VPN obfuscation technology) disguises VPN-encrypted traffic as regular HTTPS. This stops ISPs from being able to detect VPN use: which could lead to Deep Packet Inspection in an attempt to figure out what a VPN is being used for.
Remember the official line from the TRA is:
"Whoever uses a fraudulent computer network protocol address (IP address) by using a false address or a third-party address by any other means for the purpose of committing a crime or preventing its discovery, shall be punished by temporary imprisonment and a fine of no less than Dhs500,000 and not exceeding Dhs2 million, or either of these two penalties."
Although this instance turned out to be a hoax, it is vital to test if your VPN if your in the UAE, if your have a VPN Not Working in UAE then you could suffer serious consequences.
So please take care when using VPNs in the UAE.
Opinions are the writer's own.
Title image credit: Screenshot of the text from Twitter.
Image credits: Valery Evlakhov/Shutterstock.com