gpuShack is a company that is dedicated to helping the average folk enter the world of GPU mining, specifically ZCash, Monero, and Ethereum mining. To do so, it provides everything from hardware to software, and I will cover all of these in this review. However, it's key selling points are their GPU mining rigs and their unique operating system - ethOS. Since ethOS is such a fantastic piece of firmware, I have mainly made this an ethOS review. Don't get me wrong, the other aspects of gpuShack are also great, but ethOS is their flagship, and rightly so.
gpuShack Products and Pricing
gpuShack offers many items for sale to help out with ZCash, Monero, and Ethereum mining. As mentioned, ethOS is its primary selling point and what I focus on in this review. However, alongside this, it also sells an Open-Air Frame, starter bundles, refurbished GPUs, and some smaller accessories.
The mining packages, ethOS, refurbished GPUs, and accessories are all great value for money, and I honestly have nothing bad to say about them. Though I'm not sure why ethOS digital download and the SSD version are the same prices, so if you're able to wait a few days for delivery then you might as well get a "free" SSD while purchasing ethOS. The open-air frame, however, is another matter. While it is a fantastic piece of gear, I do think it's somewhat expensive for what it is, but I shall cover it's pros and cons slightly later on.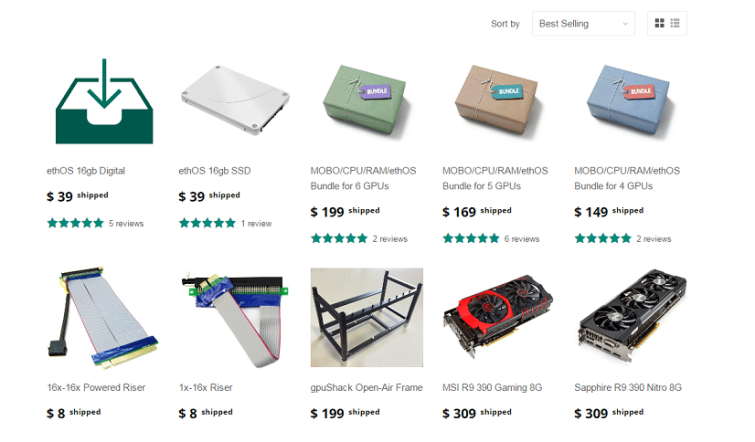 All purchases come with a warranty, so you can feel safe that you're not getting a bad deal. Alongside this, gpuShack also offers a price drop guarantee. Should you find the same make and model for cheaper, within 30 days, you'll get the difference and $5 refunded to you! Furthermore, US residents get free shipping. Worldwide it can go up to $50 + customs, so make sure you crunch some numbers, or you might end up overpaying. On top of all of this, they provide a $25 discount if you pay by Bitcoin and you can even trade in your old GPUs for a discount!
On the whole, gpuShack gets its pricing spot on, and I'm glad to see that they even donate 1-2% of the profits to charity!
How to build an Ethereum mining rig
No Ethereum mining rig setup would be complete without a demonstration of everything in action. So enjoy our video of what it's like assembling a mining rig using the gpuShack open-air frame, setting up ethOS and then getting mining.