Data Deposit Box overview
Automated backup services are a useful and functional way to ensure that your important data is always being made recoverable. Whether you are an individual or a small business, Data Deposit Box promises to back up your data automatically from several devices to ensure that you will get everything back, should a device fail or be attacked by hackers.
Privacy and security are vital considerations if you want to ensure that your personal data is only ever available to you. For that, you will need to find a service that gives you full control over the encryption of your data. Unfortunately, this is not true of Data Deposit Box (more on this later).
With Data Deposit Box, users can constantly back up from a choice of devices, including Microsoft Windows, macOS, Qnap NAS, Synology NAS, Asustor NAS, iOS (iPad and iPhone), and all Android devices.
This makes Data Deposit Box a great all-round option for anybody who needs to back up from several sources. And means that this single backup service can back up everything from office documents to pictures, videos, quickbooks, applications, and databases.
Pricing
A single subscription to Data Deposit Box allows anybody to back up data from as many supported devices as they wish. This is a great aspect of this service, so you need not worry about hidden charges when you purchase a new device that you also want to set up backups for.
Where cost is concerned, Data Deposit Box charges by storage space allocation. $20 per month gets you 200 GB of storage, which is a very reasonable starting price considering its support for unlimited devices.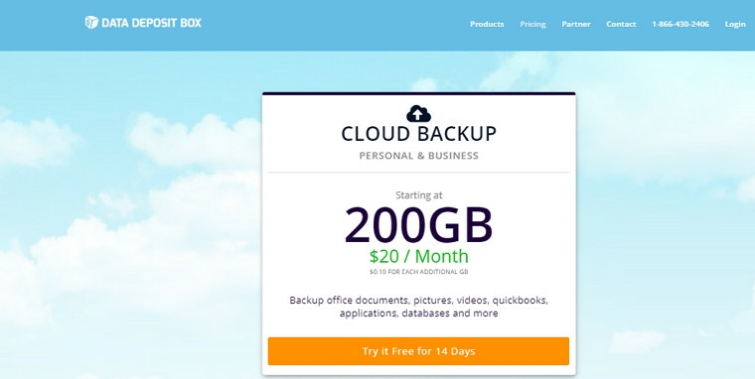 Whether you need that much backup space and want to pay such a large amount in the first place is really down to you or your small business' needs. Exceeding this allocation will result in charges of another $0.10 per month for each additional GB of storage space needed. You can get 1 free month of backups as a finder's fee if you successfully refer a friend to the service. In turn, they will get 3 months of Data Deposit Box for free.
Payment and all prices quoted by Data Deposit Box are in USD and can be paid via Visa, Mastercard, or American Express. No option to pay via PayPal exists, and consumers cannot pay using cryptocurrencies either. Again, the fact that no PayPal payments are available underscores that this service is primarily aimed at businesses rather than individual consumers looking for a backup provider, not that individuals with lots of devices can't use it themselves.
Features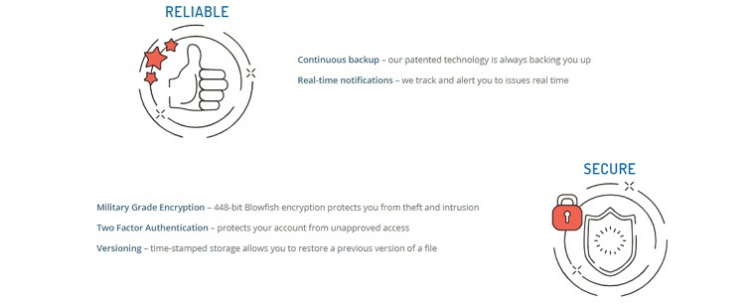 Data Deposit Box has several features that make it convenient, and suitable for individuals or teams that need to share access to files:
Backup from Windows, Mac, NAS (Synology, Qnap, Asustor)

iOS and Android

Custom apps

448-bit Blowfish encryption

Two-factor authentication

Time stamped versioning for restoring to older versions of files

Backup scheduling to back up as often as you like

User friendly central management system

Customizable team settings and permissions

Access your data via the web or via custom apps

Exclusion feature to ensure you don't waste space backing up data you don't need

File sharing feature (share password protected files and folders with anyone via email or link)

Custom throttling - decide how much bandwidth or CPU Data Deposit Box can use.
Setup
Getting hold of the software to enjoy the free trial is as easy as clicking a link on its website.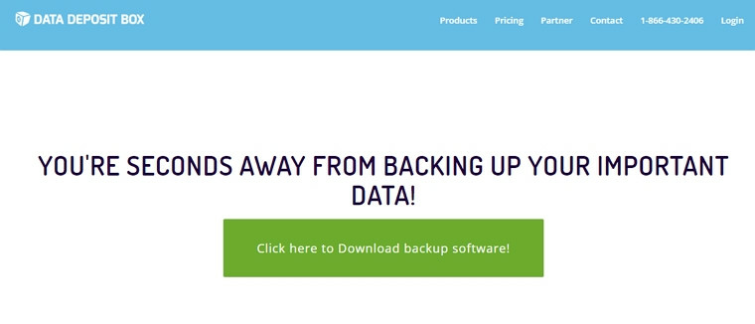 We downloaded the Windows client without issues and installation took just a few seconds.To start, users are asked to provide an email address and password. However, to do so, you must first create a free trial account on the website. With that done, you can log in to the client without issues.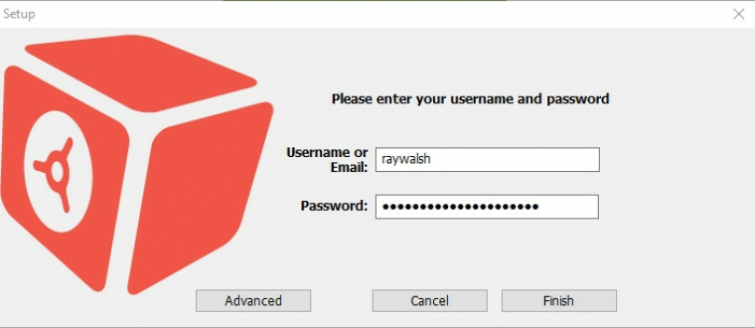 Clicking on Advanced gives you the option to run Data Deposit Box as a service. This allows your files to back up when you are logged out. However, Data Deposit Box warns you that network drives cannot be backed up with this kind of installation. We set it up with default settings.
Clicking on Finish launches the app which opens in a window of your browser and gives you the following message: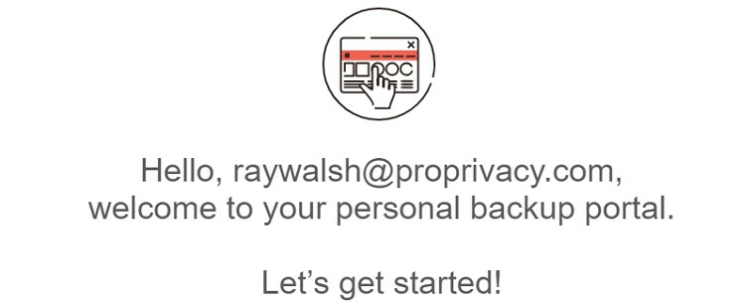 Next, the service asks you which of the folders on your computer you wish to back up. This can be set up now or later. The following screen asks you how many historical versions of each file it should create, letting you enjoy the versioning feature to regain access to previous versions of files if they are updated incorrectly. The setup process allows you to define how often those new versions should be backed up. Users can save up to 64 versions that can be backed up every 1, 2, 4, 6, 8, 12, or 24 hours.
Once you've made your decision, you will be asked whether you want to add another device. We decided to add an iPad for the sake of testing it across platforms. To do so, you must open an email that the firm sends you on the system you want to back up. This is a quick and easy way to get it working across your various devices and platforms.
We opened the email and were forwarded to the app store to download the iOS app. Once installed, and logged in using our credentials, the app asks permission to access the device's contacts and photos. Following that, it is easy to back up from that secondary device from inside the menu.
Back on the main Windows client, the setup process asks you to invite team members to the backup service. Here you can add any team members who will also require access to the recoverable data. With that done, the tour is complete and you are ready to use Data Deposit Box.
Overall, we found the installation and setup to be extremely easy, and, in terms of ease of use, we can definitely recommend this service to any beginners who want to back up their data without hassle or fuss. Whether you trust this service with your data is another question.
Ease of Use
Once inside the browser-run client, you can keep track of any updates that have already occurred.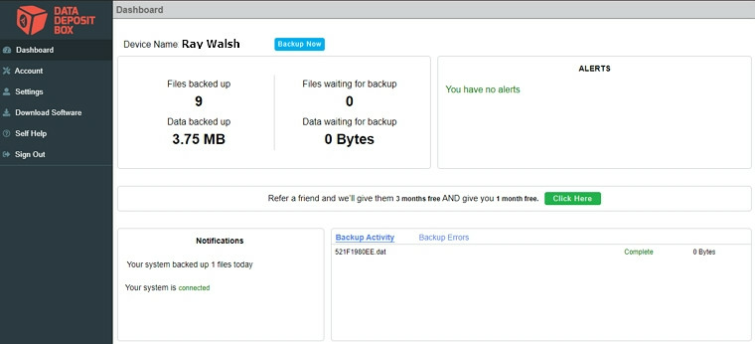 The client shows you useful things like Backup activity and backup errors. It also has a Notifications section that shows you what backups have taken place.
Adding or removing a folder from your backups is easy. Simply scroll down to the section of the client called My Files, and click on the hard drive that you want to back up from. This will open a drop-down menu with all your folders. You can select each of those one by one, to ensure that Data Deposit Box only backs up what you need.

When testing Data Deposit Box, we set up a specific folder on our C:\ drive called Data Deposit Box test folder. We added that folder to our backups by clicking on the big plus sign next to it.

The folder appeared in the right-hand side once it was added, requiring us to click Save to complete the action. Following that, the service will start backing up the folders you have selected at the intervals you selected when you set it up.

Once the process has completed, it will send a report detailing how many files have been backed up successfully and which ones have failed.

Files that have made it through the process without error now have a live link attached to them, meaning they will backup automatically whenever a change is made. For users who want to disable backups so they only happen at particular times of the day, the option is there to do so by scrolling down in the Dashboard.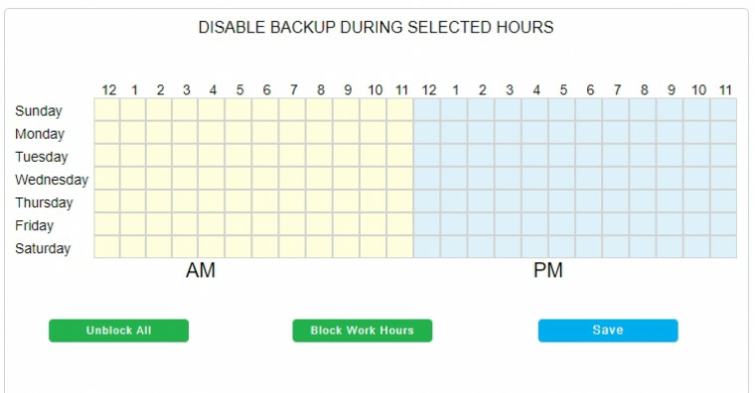 This gives you the ability to fine-tune the backup process, so it only happens exactly when you want it to.
On the right-hand side of the bottom of the dashboard, users can re-define the number of backup versions they want, and how often those versions should be created. This allows you to have as many or as few restore points as you need.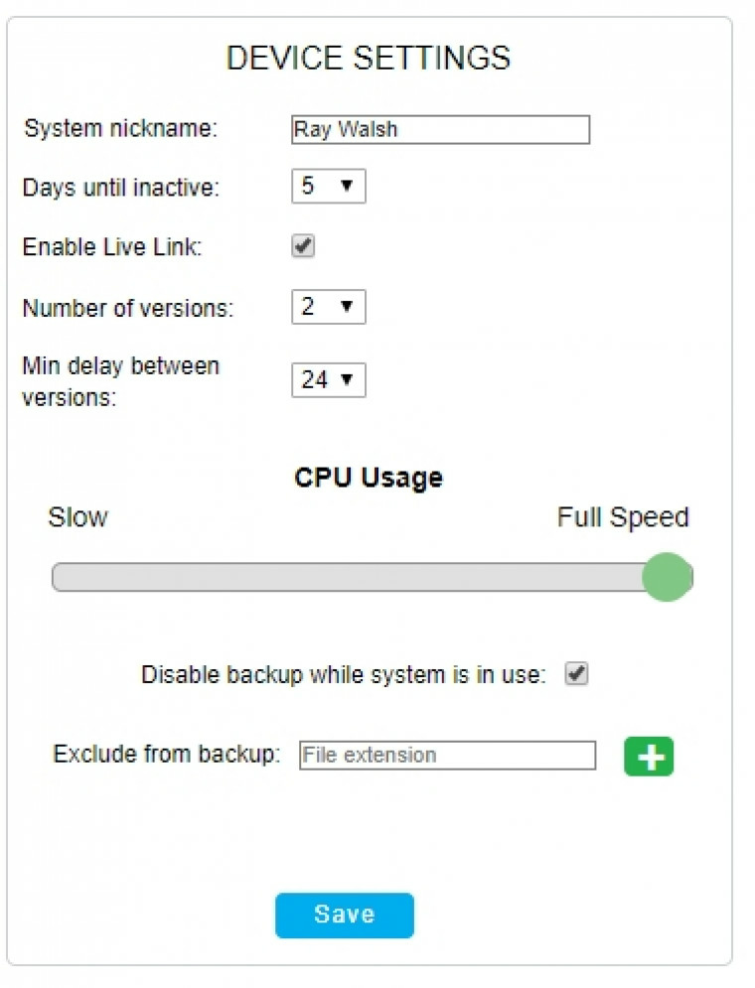 Finally, if you need to download or restore any files onto your computer, click on Manage next to the specific device you want to recover backed up data from.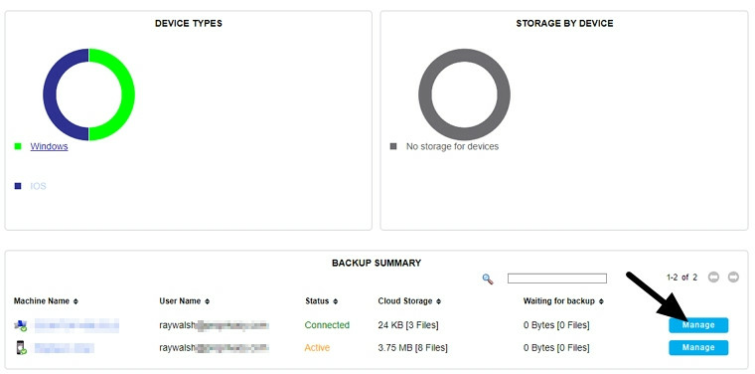 Next, locate the folder on your device you want to restore files to and click the "add to download" button.

This will make the download appear on the right-hand side, where you can schedule a time for the file to be restored onto your device. If you have multiple versions, you can select the version you desire.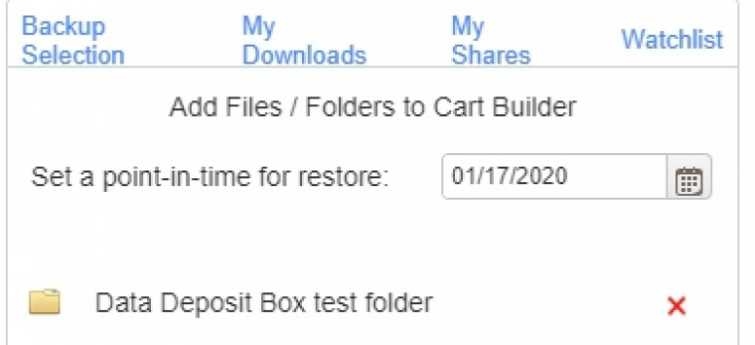 For those who want the added protection of 2FA, the client serves you a message that reminds you to set it up. This adds an extra layer of protection to the sign in phase. Users can opt for either SMS authentication or Google Authenticator, however, we recommend the latter as this is secure from interception.
We found the web app to be extremely easy to use, since everything is clearly available on the main dashboard. For newbies who have a tendency to get confused easily, a help section with guides is available from within the web app, so you should be able to track down any feature that seems to be evading you.
Admittedly, this web app is lackluster in terms of looks and is far from a jazzy, consumer facing product. But it doesn't need to be, when it is a functional service that can easily be set up to back up folders quickly. Once those backups are established, monitoring and downloading them when necessary is as simple as a click or two in the dashboard, which is great.
The ability to share access to files either via email or a link is an excellent feature, and it is reassuring that these can be password protected to ensure that they can only be opened by who they are meant for. Taking everything into account, we found the experience to be pleasant on both Windows and iOS and can only imagine that it is similar across all the platforms that it available for.
Privacy and Security
Data Deposit Box uses a custom standalone client on both mobile devices and on desktops. However, the client launches a web app on PC, which is where you access and control your backups. This gives you the ability to control your backups from anywhere, as long as the device is connected. While this provides ease of access, you don't have to worry about the usual browser based vulnerabilities because the local client installed on your machine handles all the encrypting and uploading of backups, according to Data Deposit Box.
The service encrypts backups client side using 448-bit Blowfish encryption before it uploads them, despite Blowfish creator, Bruce Schneier, recommending users to migrate to his successor, Twofish. While the encryption algorithm isn't a terrible choice, it could be much better and is, therefore, a strange choice.
With that said, the Blowfish encryption adds an extra layer of security to the data to ensure that it is protected while in transit. However, the encryption keys themselves are held server side and must be transmitted to the client to provide that encryption. This creates the risk of those keys being intercepted, emphasizing the importance of Transport Layer Security (TLS) and its implementation.
We checked the TLS using Qualys SSL Labs to ensure that data is being secured in transit.The Qualys test found Data Deposit Box servers to be using TLS 1.0 and TLS 1.1 instead of the newer TLS 1.2 standard. This caused Data Deposit Box to score a B, which is less than ideal. It would be better for the service to upgrade to the 1.2 standard, as this replaces the MD5-SHA-1 hash function with SHA-256, but the company has yet to state whether this is on its radar.
It is also important to understand that this service is not zero-knowledge. While Data Deposit Box claims to provide secure cloud storage and backups, it does not provide true end-to-end-encryption. Rather than controlling their own keys client side, customers must rely on Data Deposit Box to store those keys on its servers.
This means that Data Deposit Box has full control over access to its subscribers' data, and it could potentially access the contents of people's backups either for its own purposes or to comply with a government warrant. The terms of service clarifies that this is the case:
DATA DEPOSIT BOX reserves the right, in its discretion, to refuse or move any Content that is available via the Services. END USER consents to DATA DEPOSIT BOX accessing, preserving, and disclosing END USER's account information and Content if required to do so by law or in the good faith belief that such access, preservation or disclosure is reasonably necessary to: (a) comply with legal process; (b) enforce the terms of this Agreement; (c) respond to claims that any Content violates the rights of third-parties; or (d) respond to END USER's requests for customer service.
In addition, Data Deposit Box is a completely closed source platform. This means it is impossible for anybody to inspect the source code to see how it works and means that you must trust the firm to provide the level of privacy and security that it claims.
Whether you want to trust Data Deposit Box to store your important and valuable data will really depend on your threat model. However, when encryption keys are held server side, this opens the service up to the potential of hackers stealing everybody's keys and then accessing all the data: something that isn't possible with true end-to-end encryption,, where the user's master password is the only way to access the encrypted data.
Sadly, deprecated TLS and Blowfish encryption standards, a lack of end-to-end encryption, and its status as a proprietary platform all leave Data Deposit Box saddled with woes in terms of security.
Customer Support
Anybody who wants to ask questions about using Data Deposit Box can do so by sending the firm an email. Any query is met with an automated response to let you know that the support request has been received and has been assigned a ticket number. From then on, users must wait for customer services to get back to them. We tested this by asking for clarification surrounding encryption and found that customer service agents can handle technical questions reliably and quickly, given that a response always came within five hours.
Overall, we found the level of customer care to be excellent, especially considering our tests were conducted using the free trial.
The help section of its website is also a fantastic resource, and it has excellent explanations and guides on how to use all the primary features. The terms of service and privacy policy can be found in the footer of the website, and a Blog is also available for those who like to keep themselves informed.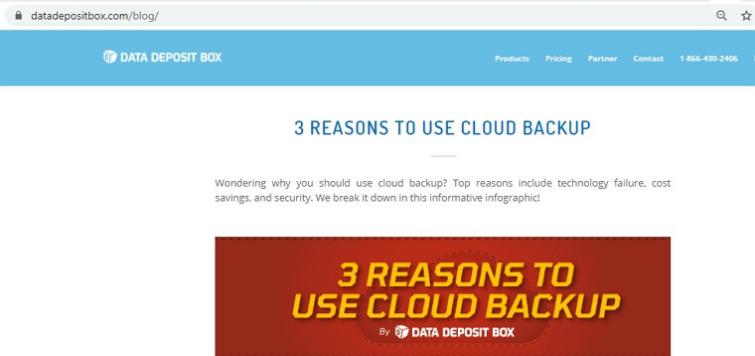 We found the blog to be a cool resource, however, you can't conduct a custom search and it isn't the most user friendly way. So, you will need to scroll through the blogs to decide if any are important to you.
Conclusion
Data Deposit Box is a useful backup service for anybody that requires backups from multiple devices, email backups from Office 365 or GSuite, and NAS storage. The service is easy to set up and use, and will provide you with the backups you need almost instantly. Scheduling is easy to manage, and users get to set up to 64 versions for restoring.
The drawbacks with this service is that besides being based in Canada, which is known to be invasive in terms of surveillance, Data Deposit Box is completely closed source. This means that you have to trust the service to work as it claims, and to provide the level of privacy and security it claims.
Regarding encryption, the firm handles the keys on your behalf. This means that it can peek and make changes to saved content if it wants to, and can allow the government to access that data if it is served a warrant. Whether this suits you will largely be down to your personal threat model. However, the privacy policy states that it may enter your data for several reasons, including to comply with a copyright claim.
And, with the TLS for this service now deprecated, and the primary encryption algorithm (Blowfish) considered in need of update; there are questions surrounding the security of data that is stored on Data Deposit Box's servers. Depending on your personal needs and the sensitivity of the data you need to back up, you may want to consider another service.
0 User Reviews
Leave a Review
Thanks for your review!