Pricing
CloudAlly can be purchased as a subscription on either a monthly or yearly basis. A subscription will cover just one service at a time, so you will need to pay for each one separately if you require multiple backups from multiple services.
A one-month contract will cost you $3 and comes with either backup for one user or with 10 GB of data (depending on what service you want to back up). A yearly contract will cost you $30, saving you $6 off the total monthly price. This cost is considered pretty reasonable. Though, if you want to back up a Dropbox and G suite (for example), you will need to pay $60 per year, which is starting to get quite pricey. And if you want to store 20 GB of data instead of 10 GB again, it will cost you double ($6 per month).
If you intend on using CloudAlly for a business, you can share the number of users you have in G Suite or Office 365 Backup, and the amount of Dropbox data you have (for example) and the firm will give you a quote for backing up the entire business and all its individual users. The firm will provide a discount of 10% to firms with 100+ users and/or 500GB + of data.
It is also worth mentioning that it is possible to use the service for free for 15 days, meaning that you can test it out risk-free to see how it performs.
Features
Backup from Microsoft Office 365 Backup or G Suite (includes drive, emails, contacts, calendars, tasks, and with G Suite sites also).
Backup emails via IMAP from any email service/client.
Backup from SharePoint, OneDrive, MS Groups, Box, Google Team Drive Backup, or Dropbox (files, documents, and lists).
Backup Salesforce Production (Sandbox environments, standard objects, customized objects, documents, attachments, Chatter feeds & Metadata).
Backup Task Drill Down. Allows users to 'drill down' into specific backup items to get information about them such their status, last backup date and total items.
Backup activity chart. Monitors the number of new items added to the backup each day.
Supports MS Groups and Teams
Bulk backup activation for Microsoft exchange (By uploading a CSV list of the mailboxes to activate, by activating backups by Microsoft Active Directory properties, or by activating backups that belong to specific Microsoft Groups).
User management notifications. These alert a new user when they have been added
Backup activity notifications. This sends you an email to notify you when a backup item is added, archived or deleted.
24/7 live chat, email, and phone support.
Amazon London and Amazon Germany data center options now available for data compliance purposes
Two Factor Authentication (with the option to demand the use of 2FA for all admins of the account)
Audit log export function.
Salesforce compare and sandbox seeding features.
Setup
The first thing you need to begin using CloudAlly is a third-party account stocked with files you want to back up. If you already have a Google account, a Dropbox account - or any of the other services it can back up from - then you are ready to make use of the service.
For the purposes of our testing, we set up a temporary Dropbox account to put test backup files in and subsequently signed up for a free trial of CloudAlly. To do so, simply head over to its website and follow the instructions on the homepage.

To sign up, all you need do is provide your name, email address, and a password. With that done you are ready to click Sign Up.
Next, you will receive a confirmation email and once you click the activation link, you are able to log in to the service's dashboard.

As you can see, adding the account you want to back up to CloudAlly is easy from the get-go. We found the entire setup procedure to be much faster than anticipated, taking us just a couple of minutes.
Ease of Use
With CloudAlly installed and activated, all that is left is to add the account you want to back up. We selected Dropbox and were asked to enter a name for the backup.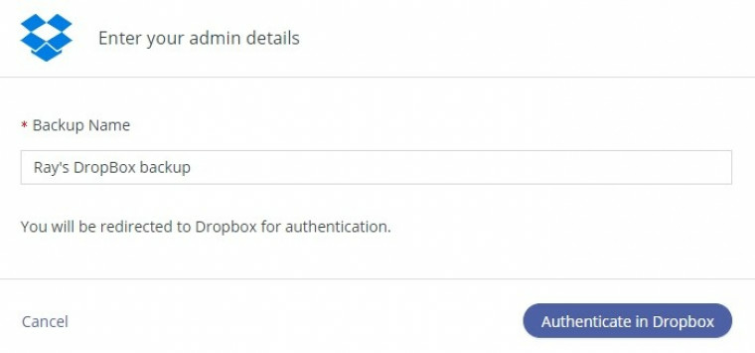 Clicking on the Authenticate box will forward you to Dropbox, and, as long as you are already logged into your account, you will be prompted to agree to give CloudAlly access.
The permissions sound a bit full-on. However, CloudAlly does require access to perform actions as any team member in order to be able to back up the data from every user in the Dropbox account. This is necessary for enterprise users seeking to back up their business files - and is not of importance if you are the sole user of your Dropbox account.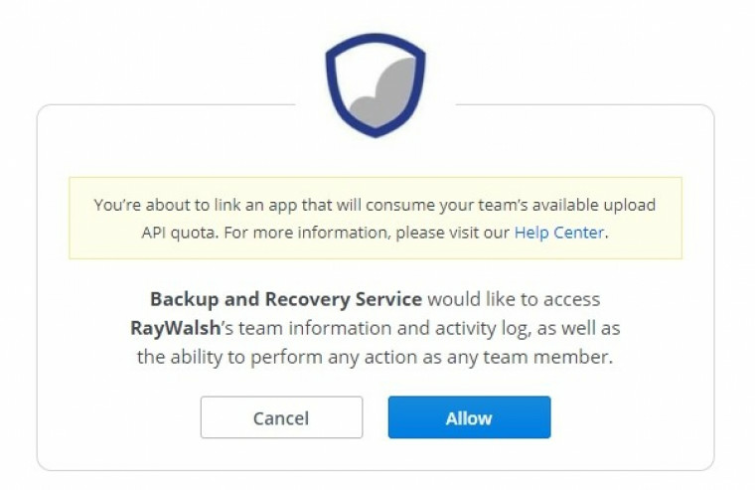 Clicking on Allow instantly provides CloudAlly with access without actually providing your password to the service. This is achieved using an OAuth token that can be revoked at any time.
Back on CloudAlly, our account now showed an active connection to our Dropbox account. On this page, we were able to set the frequency of backups to either every day, every three days, or weekly. We left it on Daily, although we did change the backup time to midday so it would perform its first save sooner.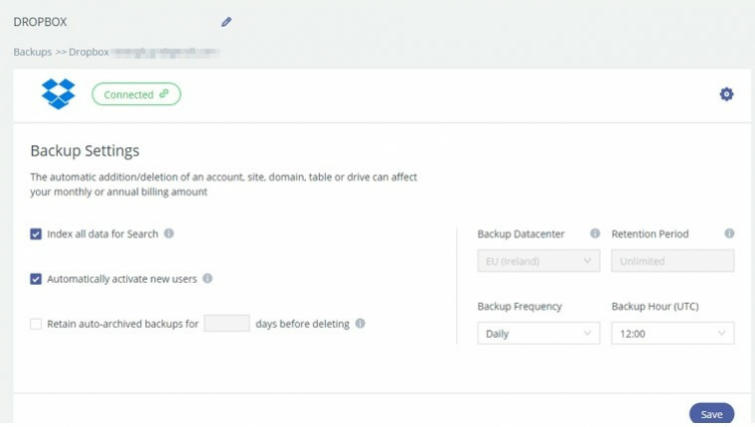 Our CloudAlly account is set up to save our data to an Amazon S3 servers in Ireland, an option we selected during the sign-up stage.
Once your preferences are saved, you are ready to set your account to back up at the frequency that you selected automatically. To do this, scroll down to your account and click activate on the far right of the username.

Once it is activated, CloudAlly will back up your files when it is supposed to automatically. You can opt to pause backups anytime that you wish. If you prefer, you can also manually ask CloudAlly to Backup Now. We decided to go ahead and create our first backup.

This changed our status to In Process. The backup took less than a minute, but this is only because we only had a few test files to back up. If you have massive amounts of data in your Dropbox (or other accounts) this will take longer.
Clicking on Activity in the menu on the left-hand side of CloudAlly lets you see exactly what CloudAlly has been doing. This is a good way to keep track of your backups and notifications. As you can see our first backup was completed successfully.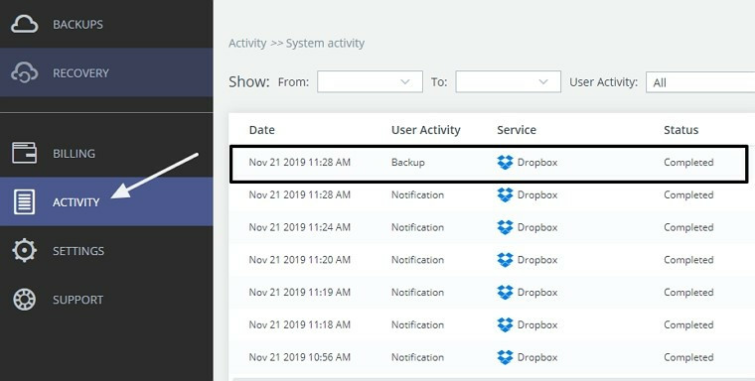 To review the process of restoring our files, we decided to recover our backups. Clicking on Restore lets you select your backed up account and CloudAlly gives you the option to either restore or download the data. We decided to go into our Dropbox and delete our files.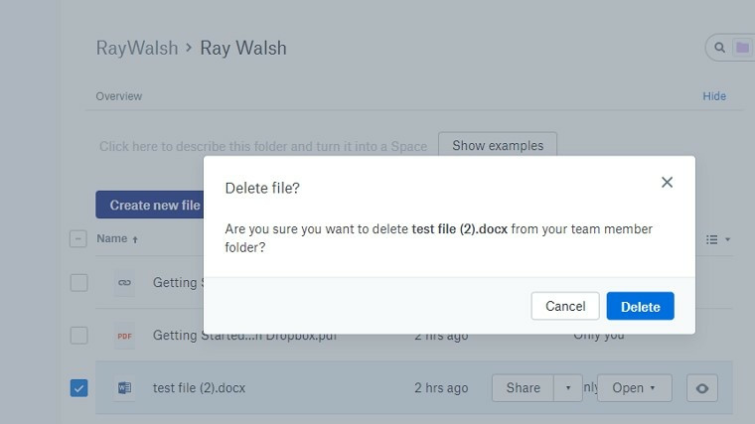 With the files now deleted, we went ahead and recovered them.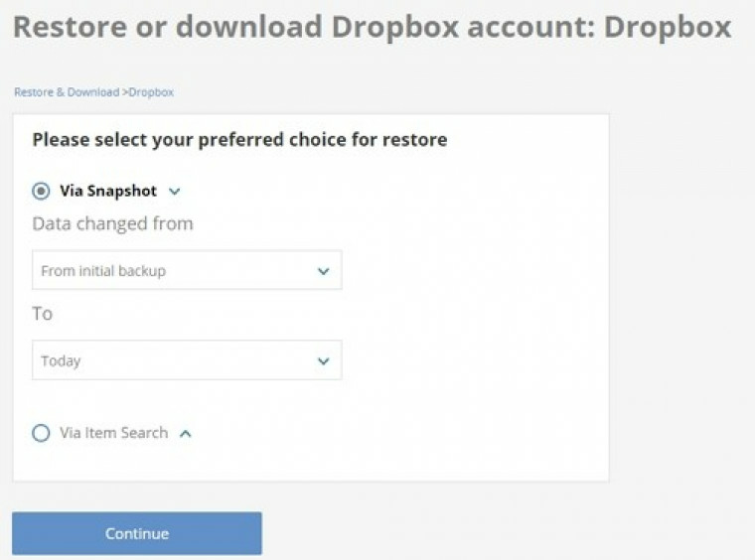 We opted to restore, however; it is nice to see that it is possible to download everything as a zip file if necessary. This makes it easy to either transport data using CloudAlly or to restore a cloud storage account that has been hacked or accidentally deleted.

Clicking on Restore results in getting a message that states a restore has been scheduled. And, back on our Activity screen we could see that the restore had been completed, so we headed back to Dropbox to see if it had worked. As hoped, our Dropbox had a restored items folder containing the previously deleted documents.

To conclude, CloudAlly is a service that guides you gently through the process of either backing up or restoring. Using CloudAlly's features is extremely easy and is definitely suitable for non-techy people and beginners. We enjoyed everything about using the service and have absolutely no complaints about its functionality.
The decision to use CloudAlly is largely going to boil down to whether you trust the service to protect your data...
Privacy and Security
To back up your data to CloudAlly from a third-party cloud storage service, you must provide CloudAlly with access to those accounts. However, because providing CloudAlly with your passwords would be problematic in terms of privacy and security, CloudAlly leverages OAuth to create a token that provides permission-based access.
OAuth is a recognized open standard for access delegation that permits users of apps and services to grant third-party websites or applications access to their information on other services without actually providing the passwords directly.
This permits CloudAlly users to provide restricted access to those services for the purposes of creating backups, and nothing else. It also means that users can revoke authorization at any time without concerns about needing to update the password - although this is something we would advise, anyway.
When data is transmitted cloud-to-cloud by CloudAlly, the firm uses secure SSL (HTTPS) enabled servers. In theory, this allows for secure transmission that is safe against man-in-the-middle attacks. We previously checked CloudAlly's servers using Qualys SSL Labs to verify the implementation of its TLS security, and found that it scored a B due to weak key exchange implementation (no Perfect Forward Secrecy).
Since then, however, CloudAlly has upgraded its TLS security to the highest level possible. It's worth bearing in mind that the TLS security rating doesn't compromise backed up data, seeing as CloudAlly's production environment isn't accessible via the internet, but it's still encouraging to see the company take steps to maintain high security standards.
Once data has been transported via TLS to its Amazon S3 servers, your data is stored at rest using strong server-side AES-256 bit encryption. This encryption is provided by employing unique encryption keys for each individual subscriber, and those unique keys are stored in an isolated and secure state on a separate Amazon S3 server. CloudAlly states that only a "very limited number of CloudAlly's core team members" ever have access to those keys.
It is worth noting that because those keys are stored server-side, this means that CloudAlly users are missing out on the gold standard for cloud storage security without end-to-end encryption. As a result, data stored by CloudAlly is potentially vulnerable to hacking or unwanted intrusions by CloudAlly employees.
However, CloudAlly asserts that end-to-end encryption isn't always a viable option for cloud storage services. These services obtain information from SaaS applications (like Microsoft Azure) that cannot transfer data to other vendors when it has been encrypted with a customer key.
We consider this to be a reasonable claim, although whether you consider this level of security adequate enough for your personal needs is down to your own personal threat model.
Next, we checked the privacy policy to get some idea about how CloudAlly might treat your data during the process of backing it up. The policy confirms that it will indeed hand your data over to the authorities if served a warrant. It also indicates that it may investigate your data if it believes you violated its Terms of Use. What is concerning, is that the wording appears to give it permission to launch an investigation into your data even just to check for suspected "potential violations."
The firm also admits that it may use and disclose your personal information to third-parties in an aggregated or anonymized format. Aggregated data should not pose any risks to individuals, although studies have demonstrated that previously anonymized data can be re-identified to individuals under some circumstances.
The fact that your backed-up data could be analyzed to create a revenue stream seems dubious - and is something that we tend to steer clear of in favor of services that promise data privacy. On the other hand, CloudAlly claims to be GDPR and HIPAA compliant.
It has internationally recognized accreditation for information security management through the Cloud Security Alliance STAR program using CSA's Cloud Controls Matrix. Therefore, it should theoretically be securing data appropriately. As is always the case, you will need to make a risk assessment when deciding to use this (and other) cloud backup services.
Customer service
With CloudAlly users get excellent customer support thanks to its 24/7 live chat. We tested out the live chat and found the agents to be both helpful and knowledgeable about the service. The agents can help you to either find out information about the service or help you to set up your account to back up correctly.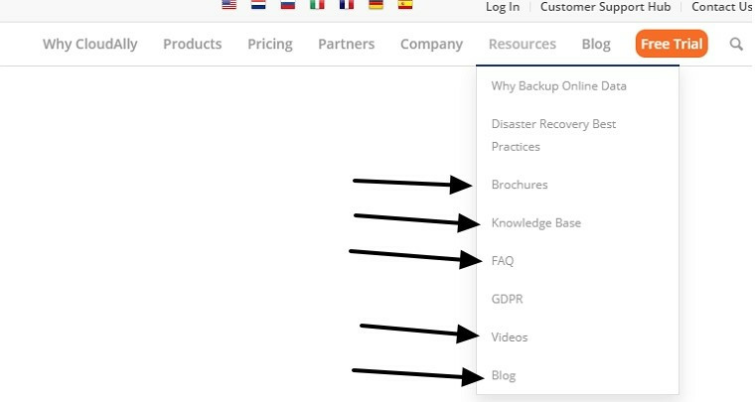 In the top nav menu, you will find a drop-down menu labeled Resources. This menu will permit you to navigate to a lot of useful information. With an FAQ, setup and user manuals, a Knowledge Base and videos all just a click away,
The website also provides a useful Blog that includes informative articles about various topics surrounding backups and backup security.
Overall, we found the resources available on the website to be fantastic. It is fair to say that the entire website is designed to provide plenty of information about the service and plenty of help for you to get set up and working - no matter which platform you are interested in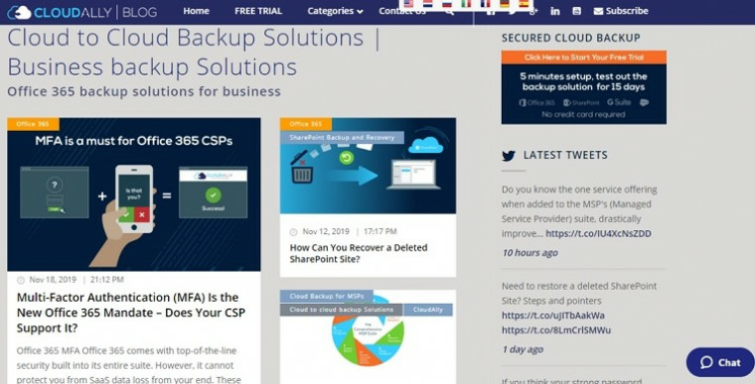 Conclusion
CloudAlly is a cloud-to-cloud backup service that is highly intuitive, easy to set up, and a doddle to use. The website is extremely well laid out, and it explains everything about the service you might be wondering about. This service is ideal for both individuals or businesses looking for an automated backup solution for their data.
10 GB of storage space for $3 per month is not costly, but bear in mind that this cost will go up by $3 extra per month for each extra block of 10 GB you need.
CloudAlly is not a service that provides end-to-end-encryption, and it does not work with any services that provide e2ee. So, if you require secure storage, it is better to shop elsewhere. In addition, the service does not promise privacy and because it holds your encryption keys on your behalf; it is possible that the firm could access your data or lose your data due to hacking.
Whether this concerns you is really down to your own threat model. However, generally, this is a good cloud-to-cloud backup that performs well at doing the job in hand.
0 User Reviews
Leave a Review
Thanks for your review!