Likes
The first 10 GB of storage is free
Good security measures
User-friendly
Partial 2-factor authentication
File sharing
Dislikes
The USA is a Five Eyes member
Some noticeable bugs and missing features
Apps are not open-source
No Linux support
Pricing
Box allows 'Individuals' to try before they buy with 10 GB of storage completely free of charge, however, it is worth noting that uploads are capped at just 250 MB per file. This can be increased by paying $10 per month for the Personal Pro package, granting 100 GB of storage and a 5 GB per-file upload limit.
Business is where Box really shines, with a range of tiers meant for teams of people. The Starter, Business and Business Plus packages all require a minimum of three users to purchase into, costing $5, $15 and $25 per user, per month respectively. Bigger companies can utilize Enterprise plans with or without Governance but must get in contact with Box directly to negotiate prices.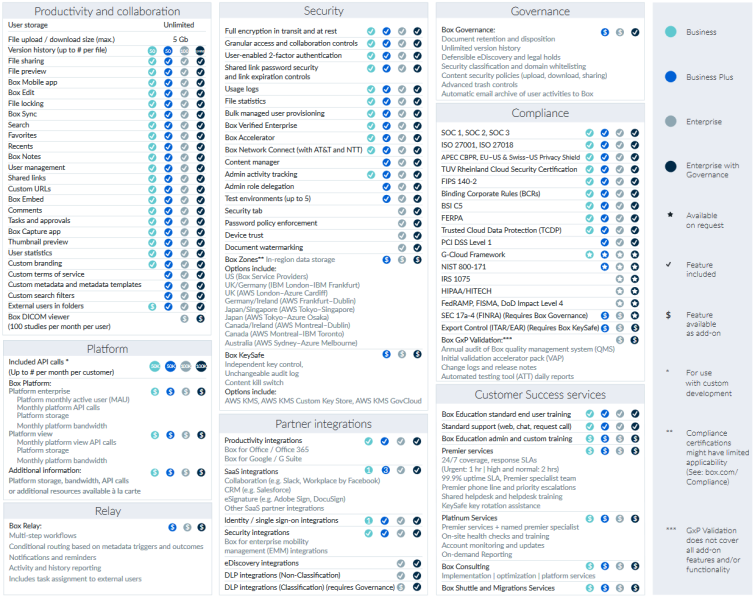 It's worth paying attention to what each tier offers as there is a disparity between them, including storage size, API call and customization of features. Fortunately, as you can see above, Box does have a comparison guide for potential customers to compare what features are included in specific packages and what can be tacked on for an additional charge.
Features
Offline viewing
Box Notes
Third-party application integration
Limited file versioning
File sharing support
Operating System integration
2-factor authentication
Offline Viewing & Editing
Box Notes gives you the ability to create a workflow by sharing calendars, plans and documents but this is far from the comprehensive suites offered by Google and Microsoft. Fortunately, Box also provides integration with popular applications such as Google Docs, Adobe Sign and both the online and offline versions of Microsoft's Office Suite.
Using any of these for the first time will ask you whether this is your default platform when editing that specific file type and warn you that using external applications means that you will be agreeing to that third party's terms of service. Defaults can easily be changed by navigating into your Account Settings and clicking the 'Integrations' section.
Browser-based editing tools will automatically pop up in a new window which can sometimes be prevented by ad blockers. In my case, Firefox itself stopped the window from opening but this is easily remedied by clicking 'Options' and allowing pop-ups from app.box.com.
Once the file has been edited, your document will automatically save and the original Box window will prompt you to refresh the page with a notification that a new version is available. You can tell what version of a file you're currently on from the number in the top left, with "V3" standing for version 3.
File versioning
Alongside keeping track of what version of a file you are currently viewing; Box allows you to upload newer file versions manually and check the version history. Unfortunately, the version history feature was continuously met with a "server error" during my testing, which informed me that "file versions could not be retrieved" despite iterative numbers changing in the top left.
You'd be forgiven for thinking Microsoft Word and Google Docs can save you here, as both do have built-in file versioning. Sadly, Box's integration removes many of these features, leaving you reliant on the storage service; for better or for worse.
File sharing support
Box has made sharing files incredibly easy, granting members the ability to invite users via email or with a link. While guests will need to create an account with Box to accept email invites, people with a link can access shared folders and files without the same limitation, although links can be confined to those previously invited.
Administrators can impose several restrictions when inviting other people. For example, inviting another Editor must be done via email, giving them permission to upload, download, preview, share and edit anything they have access to. Alternatively, email invitees can be restricted to downloading, previewing and sharing should they join as a Viewer. Links work slightly differently, only allowing people to either view or view and download files.
One thing I particularly like about Box is the ability to lock files with a simple click. Once a file is locked, other Editors will not be able to make changes to the documents until it is unlocked, giving you complete control over your collaboration.
Cross-platform
Box can be accessed on most platforms via a browser. It's recommended that you use either Chrome, Firefox, Safari, Microsoft Edge or Internet Explorer, keeping any you choose as up to date as possible. It should be noted that while Microsoft Edge allows you to edit documents using cloud-based software, it does not currently support Box Tools to edit files using desktop applications.
The Box Sync application is available to download on any version of Android released in the past three years and the latest two versions of macOS and iOS. Windows 7, 8, 8.1 and 10 all support Box Sync, however, it does not support NTFS data deduplication.
OS Integration
Those that download the Box Sync application will notice integration with the cloud at the operating system level.
On desktop, Box will appear on the left side of Windows Explorer and Mac Finder, allowing you to browse files provided you are connected to the internet. Box also appears in the Windows Tray, which can be accessed by pressing Ctrl, Alt, Shift, and B simultaneously. Right-clicking a file within Explorer and Finder will display new options, including a shortcut to the website and the abilities to lock and share files. This is not to be confused with OneDrive's sharing options on Windows, which appears further up.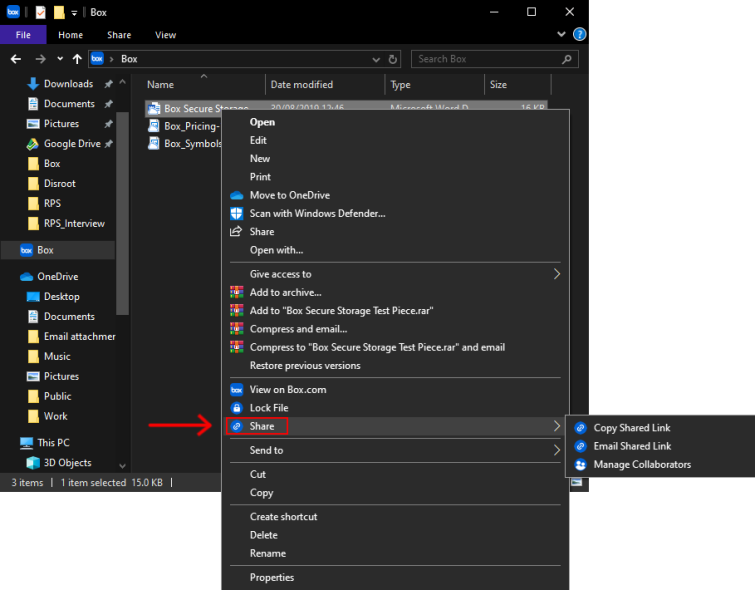 Currently, there is no official support for Linux but there are applications available for Android and iOS devices. Alongside the launcher providing access to the cloud on mobile devices, Box will also appear when attempting to share images and files directly, allowing for immediate upload.
2-factor authentication
While we would have preferred universal 2-factor (U2F) via physical USB keys, a standard which is already supported by bigger companies, Box incorporates 2-factor authentication via SMS text messaging to further protect accounts. The first time that you log in to a new device, you will be required to input a code. Once that device has been registered, it will log you in without prompting you for 2-factor verification. This is convenient but requires you to take extra care of the devices you use to access Box, as there is no way to enforce 2-factor every time that you login.
Privacy and security
Jurisdiction
Box is based in Redwood City, California, meaning it must adhere to the questionable privacy policies of the USA and its Five Eyes spying alliance led by the National Security Agency (NSA). The company hasn't quite found itself in headlines like Google and Microsoft, but it's reasonable to assume that there is some attempted governance from the NSA and other officials.
Zero-knowledge
When former NSA and CIA security contractor Edward Snowden shed light on mass surveillance in 2013, Box began conceptualizing ways in which it could eschew government interference. Since Box still logs activities, it doesn't quite reach the promises of a zero-knowledge policy but it does implement its own protocols with Box KeySafe.
Technical security
Box's encryption hits most of the same notes as its larger competitors, with SSL encryption in transit, 256-bit AES encryption at rest and even armed security guards protecting the physical servers. Security options get tighter the more you pay, however, with Data Loss Prevention (DLP) available from the Business packages upwards and Box KeySafe at an additional cost on top of the Business Plus or Enterprise tiers.
Box KeySafe is a type of Key Management Service (KMS), which attempts to place you in control of your own privacy without the usual expense of convenience. What this does is provide hardware security modules (HSMs) to give companies more control over the management of their encryption keys, but they are still stored on Amazon's Web Services (AWS). The unchangeable audit log keeps track of who has accessed the server, emails admins when someone isn't recognized and contains a kill switch as a last resort, but still requires you to trust a company with your keys. This feature also isn't included in any of the base packages and is instead tacked on at an extra expense.
Issues
Browser Cryptography
The web often relies on variations of JavaScript in order to hash, verify and encrypt content, which is regarded as one of the worst programming languages around due to its fragmented and unstable front-end. This isn't helped by the fact that users have no say in accepting the code pushed during updates or means of verification to ensure that the intention is what the developer claims.
Closed-source
Every version of Box is closed-source, meaning that there is no way to independently verify that files are properly encrypted or that the company isn't pumping malicious or self-serving code into its services. While there isn't any reason to think ill of the company's intentions, we would always prefer the ability to check for ourselves rather than simply relying on trust.
Ease of Use
Box's primary focus is on convenience, stripping things down to a simple and easy-to-use interface on all officially supported platforms. This shows in its aesthetic, but it's certainly not as intuitive as its mainstream counterparts as it overlooks some simple options and is questionably unreliable.
Desktop (Windows and macOS)
Downloading the application on Windows and Mac bakes the service directly into the Explorer and Finder, respectively. Each client is built to synchronize automatically so that your files are available wherever you go, but forced synchronization is oddly one way. You can prompt the browser version to synchronize with the device you're on, but the option is not present vice versa. Similarly confusing, you cannot make single files available offline. Instead, you must create a subfolder, place the file inside and make the folder itself offline.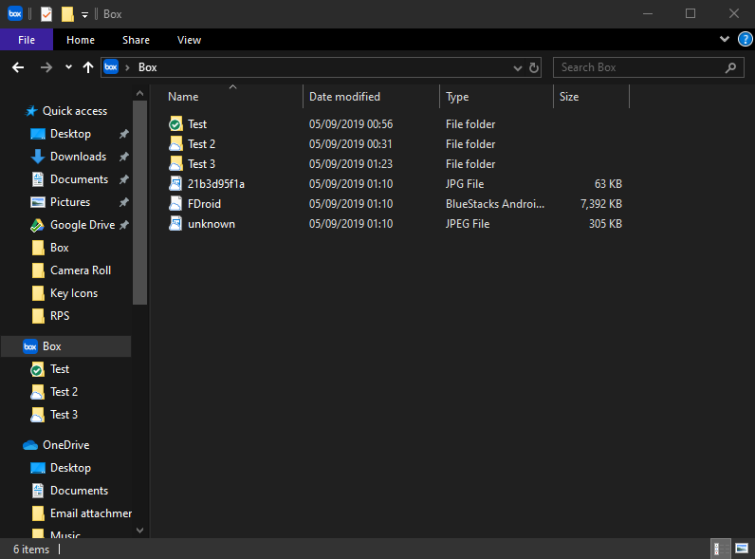 I also had numerous issues with the OS integration on Windows when I disabled the program on Start-up. Understandably, if the program cannot boot, it cannot synchronize to the cloud and therefore prevents access within Explorer but even after booting the application manually, Box remained offline. This was partially remedied by re-enabling Box on Start-up, but some issues persisted.
Mobile (Android and iOS)
The Android and iOS applications are much sleeker, with clearly defined options. Clicking the plus symbol showcases a range of choices, from creating new folders, documents, and notes to taking photos and uploading directly to the cloud.
Unlike the desktop version, you can make individual files available offline and even receive a confirmation via push notification that a file has successfully uploaded, although uploading more than one at a time can cause this to crash and display that it is "preparing" despite completing the upload minutes prior.
The most disappointing aspect of Box's mobile application is the inability to upload and synchronize entire folders, instead of requiring you to create a new folder within the cloud and select multiple files manually.
Browser
As usual, the web portal seems to be the most definitive version of Box. It is fully featured with a clean interface, granting options that aren't seen anywhere else. From the browser, you can keep track of who is actively collaborating, adjust the information on your profile and even make use of Box's speedy customer support.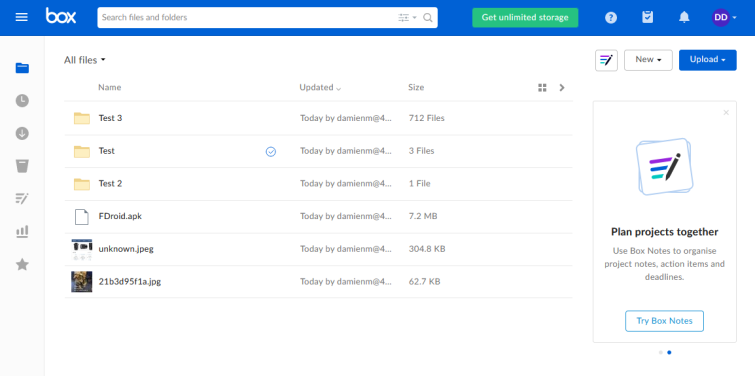 Final Thoughts
Box is undoubtedly one of the sleeker cloud services around with a commendable focus on balancing security and convenience. Its pricing is rather fragmented and potentially unwelcoming to individuals compared to the competition, but this should suit businesses perfectly by allowing them to customize the exact experience they want.
Customer service was an absolute joy to contact, quickly answering questions with a proficiency and a level of professionalism that should make its contenders sit up and take note. Sadly, the hiccups we experienced along the way aren't something we would expect from a premium provider. We can't help but feel as though its American base of operations is an issue without a zero-knowledge policy, even if Box's KeySafe attempts to soften the blow for those that don't mind paying extra.
Overall, it's probably worth looking elsewhere as an individual if quantity is your priority or you're looking for true synchronization. As a business, however, Box might be exactly what you're looking for.
0 User Reviews
Leave a Review
Thanks for your review!