Chromebooks are great, but a Chromebook with a VPN is even better. In this article, we take a look at which VPNs support the Chrome OS and rate their services, so all you have to do is pick the one that's right for you.
Just like with every other computing platform, you can greatly improve your online privacy and security by using a Virtual Private Network (VPN) with your Chromebook. It's not just boring stuff that VPNs are good for! VPN services are great for bypassing censorship, unblocking content, and using a VPN whilst torrenting can be made safer.
I was highly skeptical when I first heard about Chromebooks and Chrome OS. An entire operating system that is basically just a browser? Really? Well, it turns out the idea really does have legs. A lightweight, cloud-based operating system (OS) does everything that many people ever need. This functionality has, in fact, recently been massively expanded. With a VPN you can make your Chromebook even more secure.
What are the best VPNs for Chromebook?
Here's a sneak-peek list of the best VPNs that support Chromebook:
For more information on any of our favorite providers for Chromebook, keep scrolling.
5 best VPNs for Chromebook users
If you want more information, our in-depth list below allows you to compare our favorite VPNs to use on Chromebook:
Why do I need a VPN?
A VPN is a way to securely connect your Chromebook to a "VPN server" run by a commercial VPN provider. Your Chromebook then connects to the internet via this VPN server.
Using a VPN is arguably the single most effective measure you can take to improve your online privacy and security.
All data passing between your computer and the VPN server is encrypted. This is sometimes referred to as an "encrypted tunnel." The VPN hides your data from your Internet Service Provider (ISP), so that it cannot spy on what you do online.
VPN providers usually run servers in different locations around the world. This is great for avoiding censorship, as you can simply connect to a server located in a country where there is no such censorship.
When you connect to the internet via a VPN server, anyone on the internet will see the Internet Protocol (IP) address of the VPN server, not your real IP.
It probably comes as no surprise to any Chromebook owner that when it comes to Chromebooks, there are a couple of extra kinks to consider with VPNs…
How Does a VPN for Chromebook Work?
On other platforms, you usually sign up for a VPN service, then use the VPN's app to connect to it. The core idea behind the Chromebook, however, is that everything happens inside the browser, so no additional apps are needed (or possible).
Except for the fact that it's now possible to run Android apps on many newer Chromebooks.
There are now two basic ways to run a VPN connection in Chrome OS. You can use the built-in L2TP/IPSec VPN client or an Android VPN app. In addition to this, you can use a VPN add-on for the Chrome browser. These are not really VPNs, but proxy connections.
How to set up a VPN on Chromebook
If you want to install and set up a VPN for Chromebook you can refer to our handy guide. In it, you will find explanations for all three ways there are to use a VPN on Chromebook:
Use the L2TP/IPsec client built into Chrome OS.
Use a Chrome browser VPN extension.
Use an Android app (only available on Chromebooks that support this feature).
Setting up a VPN on Chromebook is not difficult and the best VPNs also have their own guides. That means you can either use our handy guide - or your VPN's specific guide - to set up your VPN with Chromebook. Here are the basic steps for using an Android VPN app on Chromebook:
Open the Google Play Store
Search for your VPN provider and download the software
Run the software and log in using your credentials
Connect to a VPN server
Browser Add-on VPNs for Chromebook
The whole thing about Chrome OS is that it's basically just the Chrome browser. This means that most of the Chrome browser VPN add-ons offered by an increasingly large number of VPN services will work just fine on your Chromebook.
Technically speaking, these "VPN" add-ons aren't actually VPNs. This is because they don't protect all internet connections going into and out of your computer. They are instead proxy connections that only protect the browser.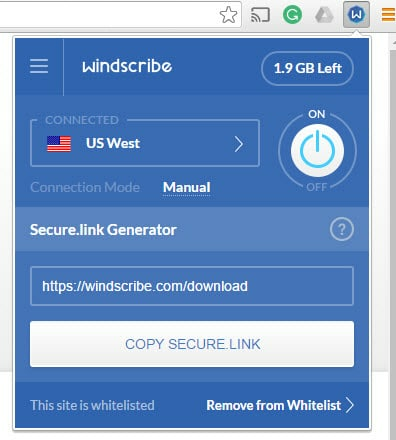 However, since with Chrome OS the browser is the operating system they can, in effect, act as true VPN clients.
That is, apart from the fact that newer versions of Chrome OS support Android apps. These run on their own separate Android subsystem, and won't benefit from a Chrome VPN browser add-on.
Most such browser add-ons securely encrypt the connection using HTTPS. It is always worth checking that this is the case with your VPN provider, however, as some have no encryption at all. These may still be useful for spoofing your location, but provide no security or privacy benefits.
Quick View